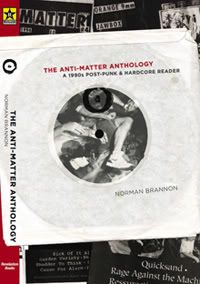 On November 6th,
The Anti-Matter Anthology: A 1990s Post-Punk & Hardcore Reader
, the first book that I know of that tells the story of 90s post-punk/hardcore, will hit shelves. The press release describes my feelings about it pretty well:
"
While much ink has been spilled over 1980s punk and hardcore mythology — eventually culminating with a Sony Pictures feature film, American Hardcore, released in 2006 — very little has been revealed about the era that followed. Indeed, it's a glaring omission.
In the 1990s, punk rock entered its adolescent stage and began reevaluating its own music, politics, and traditions. And before long, the result of this collective soul-searching became clear: If hardcore wanted to remain relevant in the new decade, it was going to have to rebel against itself. The Anti-Matter Anthology is perhaps the first published book dedicated to this transition."
The author is Norman Brannon (aka Norman Arena), who did time in 108, Shelter, Texas is the Reason, and others. Brannon has also written for several music magazines and web sites, and I assume he can give a pretty good, accurate depiction of the 90s punk scene. While I'm sure there will be omissions (you'll never be able to tell everything in one book), I've got my hopes up for this one.