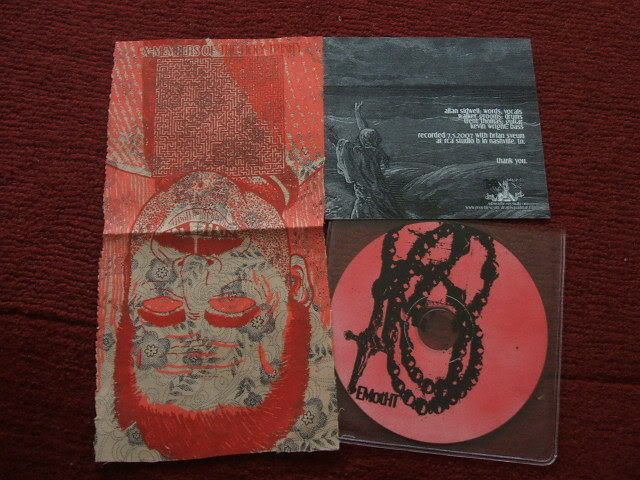 Ex-Members of the Holy Trinity are a newer hardcore band from Birmingham. They remind me a lot of From Ashes Rise, and some elements of Fucked Up. I hate using the Fucked Up comparison, because I think Fucked Up are one of the most over-rated punk/hardcore bands out right now. Maybe since there isn't the huge hype-show behind Ex-Members of... I can just appreciate it for what it is.
The guitar player in this band plays drums in
Now I Have a Machine Gun
, and has played in several other Birmingham hardcore bands over the years, a few of which might spark some recognition with you if I felt like listing them. The singer in this band surprised me a lot. You see, he used to sing in this band called Burned Over Time, who were a really horrible Throwdown style mosh band. The guitarist now plays in
Die Young
, the drummer is a cop and I don't think plays in any bands right now (correct me if I'm wrong). The three of them somehow convinced a whole slew of bassists to fill in for them, one of which went on to sing in
Your Loss
, who also featured the guitarist if BOT/Die Young, and the OTHER guitarist in that band now plays in the world famous
Hollywood
, and a lot of these same guys are now involved with that band
Legion
. TWO of the people who played bass in Burned Over Time also played in
Korova
, one of which has
a blog with a lot of links
.
I don't really know why all that was relevant except to show how incestuous the hardcore scene can get, and to embarrass Alan and myself about a band we were in. Anyway, the vocals on this demo don't sound anything like the vocals on Burned Over Time, which is definitely a good thing.
For fucks sake, just
download it already
. It's a zipped file, and, once again, you'll have to type in a code given in an image on the download page. If you like it, e-mail defenistrated666@hotmail.com and tell him you want a copy if they still have any. They come in really nice screen printed sleeves and everything (see photo above).