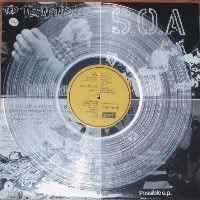 It's pretty much impossible to actually review this record. Everyone's heard all this before, whether they're totally old school and have the original 7"s, they got the pressing of this LP from 1984, or they got the
Year In 7"s
CD reissue, it's all pretty common stuff.
This record collects four of the first six records released by Dischord; Teen Idles-
Minor Disturbance
, SOA-
No Policy
, Government Issue-
Legless Bull
, and Youth Brigade-
Welcome
. The gaps in the catalog account for the Minor Threat 7"s, which are unnecessary as they're collected on CD in
Complete Discography
, and on vinyl as the
Minor Threat
12".
Honestly, really, really honestly, I would have gotten this for the SOA and Government Issue tracks alone. Those are such great, timeless hardcore records that pretty much anyone that's into the whole punk/hardcore thing needs to own. The Teen Idles record is good from a historical perspective, but I never really got into them. It's toneless, they didn't have time to really develop as a band. Youth Brigade I could take or leave. They're alright. As with the Teen Idles record, you have to look at it from a historical perspective.
The street date for the repress is August 29th, but it's already out a few places. Check your local shop. It's been repressed on clear vinyl, but I don't know if that's limited or they're all on clear. I know this is going to make me sound like a total geek, but I love the feeling of taking a record out of the shrinkwrap and finding out it's on something other than black vinyl. I donno' why. I read an interview the other day where the guy said it was like "opening up the wrapper and looking for the golden ticket", and that makes sense to me, as I was stoked on this record when I got, anyway (even though I've already got it all on CD), but just something about taking it out and seeing it on clear was really cool. Total nerd points, right?