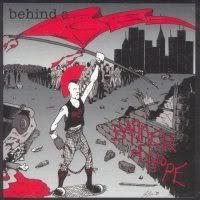 When I mentioned this band in a review
a couple weeks back
, I didn't know that this record had fallen completely out of print, and apparently the label is out of business (if I'm wrong, correct me!). The song "Wrench in the Machine" should be on any mix tape you make for a younger punk kid that's new to the scene, it's an absolute classic. Outside of that track, though, I find the album to be an almost complete bore. I know some people who go completely nuts over this band, but I just can't get into it. It's sort of a Blanks 77 style band with a really heavy X Ray Spex influence, meaning there's a female vocalist that's just belting out 110% all the time but manages to keep any sort of edge out of her voice. So, anyway, you might be all about it.
Download it
Per usual, there's captcha. Scroll down, type in the letters from the graphic. Hourly bandwidth limit, sorry. And, it's zipped. You know the drill. Have fun.
Interpunk
has a few copies of this left (notice the graphic: "Available Only While Supplies Last"), so if you're into it, go ahead and grab it as it's the only place you can still find a new copy, and it's probably really, really old stock.