(I know the download links for the CDs weren't working. They should both be working now, sorry about that!)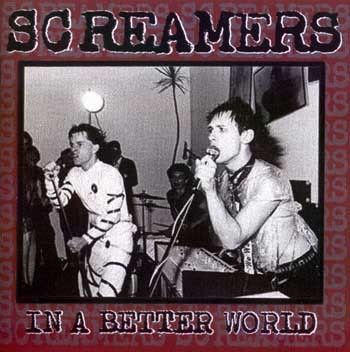 The Screamers have gotten to be a much bigger deal in the past couple of years than they were just a few years ago when I got into them. This record probably has a lot to do with that. Before this came out, I had only read brief accounts of the band's liveshows (which were always raving about their genius), and this was one of the first times that any of their recordings were available to an audience larger than KBD collector nerds.
The Screamers were from LA and lasted three short years, but they managed to progress punk further in three years than most bands have in the three decades that have come. They discarded guitars and based their band on synthesizers, and they also featured a drum machine (years before Big Black or Skinny Puppy, mind you). For all their progression and differences, their sound is still very well rooted in LA. You can hear the Germs bleeding through on every vocal track, and some of the songs have the sugary not-quite-pop sound of the Pop! or early Motels. The whole thing points to
that one Bad Religion record
, and is probably the most accessible example of synthpunk (the Units, while conceptually a great band, were way too dancy for my taste).
This is a bootleg put out by the people who run
Synthpunk.org
, and the imprint says Xeroid Records. The only other release I know of theirs is a tribute to the Screamers, which I actually never heard. It came out 7 years ago and was pretty well distributed for a bootleg, but copies are a little hard to come by now (and sell for around $30). It's well worth the purchase of the physical CDs for all the great flyers, pictures, and newsclippings. It's been remastered, but the sound quality isn't amazing, so you audiophile freaks might not be pleased. But if you're that into quality, why the hell are you listening to punk rock?
Download In A Better World Disc 1
Download In A Better World Disc 2