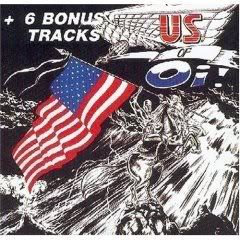 This comp was released in 1993 on Link Records, and is still probably
the
definitive American Oi compilation. It's got almost all of the classic bands, from the Anti Heros ("Hate Edge" is probably the most easily recognizable US Oi! song from the era), YDL, the Uprise, and the opening track is a stripped down version of Warzone's now legendary "Don't Forget the Struggle".
It's not all amazing. The duds are still here. The Boot Boys "American Heritage" is like something that Nancy Reagan would've written as propaganda for school-age kids to a watered down punk back beat. The Kicker Boys "Sitar (I Hate Hippies)" is almost unlistenable, although "I Got a Handgun", their other contribution on this disc is one of those punk anthems that's so bad it reaches some higher form of clever art that makes it infectious.
While
some people
disregard American Oi as just ripping off the lower forms of the early British incarnation (which I have to admit is valid to an extent), I just don't see how you can pass off the Uprise or YDL tracks as anything less than great.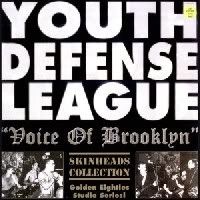 I don't really know about the politics of Youth Defense League (the spelling on this record actually lists them as "Youth Defence League", which is wrong), nor do I really care to pick apart some elaborate mythology of the band before I'll admit I like them or not. I know there have been several accusations against them about whether or not they're racist and/or right-wing extremists, but I don't know of any songs that actually state any politics of that kind, and I would assume that since they associated with bands who had a zero tolerance policy on racist skins (Agnostic Front, Gorilla Biscuits), I doubt it. The song "Skinheads 88" that appears on this record is actually a reference to the year (the song was originally released on the
American Pride
7" in 1989, recorded in 1988), and was a response to the skinhead "purists" who harped on the "Spirit of 69" aesthetic.
There are bonus tracks on this that are exclusive to the CD version, which was pressed by Step-1, a British anti racist label. The Grievance Committee tracks listed as part of the "Bonus" are phenomenal, and I can't understand why they were omitted from the vinyl version. I know they released an EP in the Mid-80s, but I've never heard it.
Download U.S. of Oi!
(NOTE: I uploaded this onto mediafire instead of bigfilehost. It's a little easier to work with the download, so I hope it works out. Let me know what you think!)
This CD is still available from Amazon. It's a bit pricy, but if you like it, you should
check it out.