Saturday night I headed up to the Beat Kitchen to catch the
First Wave
and
Hudson Falcons
show. The crowd was a dissapointment (at most, it looked like there were only about 50 max, on a Saturday!), but the show was incredible.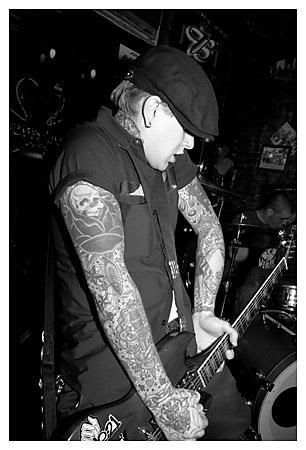 The First Wave is a Clash-influenced streetpunk band along the lines of early Rancid. They say they're a half Memphis/half Philly band, but to me they'll always be Southern boys, as they're friends and I know them from back home. Their set the other night was the first time I'd seen them as a two-piece (they lost a bassist on tour and just decided to carry on without him). The sound loses a little, but not enough to make it unenjoyable. The bad thing about their set was that they were playing to a drinking crowd that wasn't really paying attention to what was going on, so there ended up being a lot of talking over them, which was annoying as hell. Seeing these guys play to a hometown crowd that knows their songs is the best way to see them until people start really paying attention.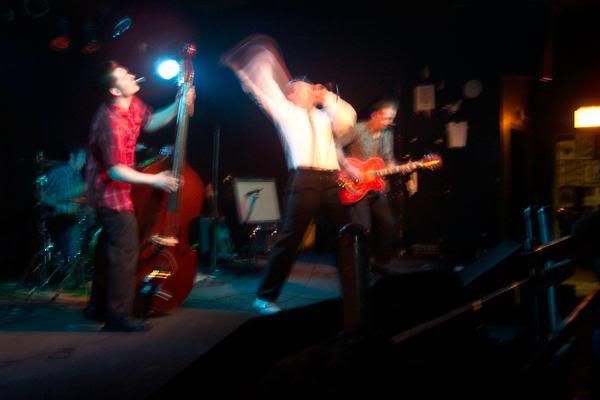 The Stranger
played next, who are a local Chicago band. I'd never heard them, and I wasn't really expecting much based on the fact that they had an upright bassist (who also plays in Deals Gone Bad) and a rockabilly looking guitar player with a hollowbody electric. I love good psychobilly/neo-rockabilly, but it just seems that the vast majority of them are awful. I've also found that since I moved out of the South, I've become increasingly critical of bands that are trying to play Southern style music. Anyway, I was too quick to judge, because while they did have a good bit of neo-rockabilly style, they were more about old Northwest style garage with a heavy dose of Chicago style blues. They were unique, their songs were all top-notch, and their stage presence was amazing. They're also
the only
band I've ever seen cover the Sonics and not completely butcher it (incidentally, they played "The Witch", and not the standard "Strychnine").
Now, the Hudson Falcons. I've got a little history with this band I should explain. When I was 15 years old, I got an e-mail from the Hudson Falcons about playing a show Birmingham, where I had only booked like two shows at that point. I'd heard of them, but didn't really know who they were at the time, but I did my best to get them a show anyway. The Boiler Room had just closed and there were no all ages spots in town, so I ended up having to get them a show at a bar called the Upside Down Plaza and I had to get an older friend of mine to cover everything at the show as I wasn't even old enough to get in. While I put it together, I started to get way into them and my interest in the band never really let up. A year later they played Nashville and I looked forward to it for weeks. The day of the show my ride fell through and I didn't make it. A couple of years later, Slag got offered a spot on a show with them in Baton Rouge, and I thought that was finally going to be it. I don't even remember what exactly happened, but we had to cancel and I couldn't go. Last year they played Champ's in the Southside like a week after my son was born. I had already resigned myself to staying in that night because I needed to be with my family even though I wanted to see them, and at the last minute my wife just told me to go. I did get to see them, but they got pushed back really late and the club only let them play for 20 minutes, which still felt like a letdown. Add that to the fact that they had stopped selling the "Working Class Motherfucker" shirt that I'd always wanted (dumb, right?) and I couldn't help but be a little dissapointed.
Anyway, my point is that Saturday was the first time I'd ever been able to see a full Hudson Falcons set. I stood in one spot, watching these guys in awe, for over an hour. I've never done that before, ever. Even when they're jamming or winging it, every note sounds spot on, every song you recognize from the albums that sounded so great on your stereo completely comes to life in this little club with 20 people crowded around. I hope I don't have to wait too many more years before I finally get to see this band again.
The Hudson Falcons and the First Wave are both on this weeks Digital Mixtape. Just scroll down one post.