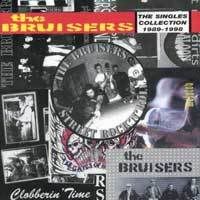 This is the band that Al Barr of Dropkick Murphys fame used to be in. My opinion on this whole thing (and, for once, seems to be the opinion of most people I know) is that I used to love the Dropkick Murphys. The
Do or Die
still rules after all these years. When Mike, the original singer, left the band, Al Barr made complete sense as a replacement. The Bruisers are essential 90s US Oi!. But, it seems like the merging of two classic bands yielded pretty boring results. I haven't bought a DKM record since Al joined the band, and I don't feel like I'm missing out on a thing.
But, sparing the rest of my jaded rants, here's the Bruisers
Singles Collection
. Personal favorites are "Intimidation", "Society's Fools", "Brown Paper Bag", and "Gates of Hell". My least favorite song in this is probably "Bloodshed", but Blood for Blood down an amazing cover it on
Outlaw Anthems
.
Taang Records
put this out. Support.
Download Singles Collection