ONE MORE 60s POST AFTER THIS AND THEN I'LL POST MORE CRAP YOU HEATHENS ARE INTO!
When I was a freshman in highschool, a senior girl gave me an awesome mixtape full of great old rock n roll, punk, some jazz, and a little soul. Buried on the second side was
Link Wray
's classic "Rumble". In the liner notes she typed up for me, she told me to study Link Wray, because listening to, and understanding, his music would allow me to "develop a cool strut of my own." It was a silly way of putting it, but true. Rock n roll has always been about that swagger we carry with us, you can see it in our walk. Like we're onto something so much cooler than you are. The entire Cramp's catalog has that swagger to it (just listen to
Bad Music for Bad People
right before you go into a new job and you'll see what I mean). "Laisse Tomber Les Filles", oddly enough, is another great example of this.
"Laisse Tomber Les Filles" was written by
Serge Gainsbourg
and recorded in 1964 by
France Gall
, who was 17 at the time. Though she's pretty obscure in the US, apparently in Europe she's an icon and is still releasing hit records in France. Most of her music of the 60s is poppy, sort of Nancy Sinatra style stuff (that might be a weird comparison, but you know, this isn't the core of my knowledge base here), but this song is probably the best. It insists, but it's still pretty insouciant. Only teenagers can make stuff like that, it's great.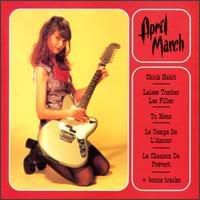 In 1995,
April March
translated the song into English and recorded a version called "Chick Habit" that, while significantly modernized and punked up, is pretty true to the original. The song originally appeared on an EP that was all covers of French pop (or "ye-ye") songs, but it's recently been made famous by appearing on the soundtrack to Quentin Tarantino's
Death Proof
.
Anyway, enjoy, and try and develop a cool strut of your own.
France Gall-"Laisse Tomber Les Filles"
April March-"Chick Habit"