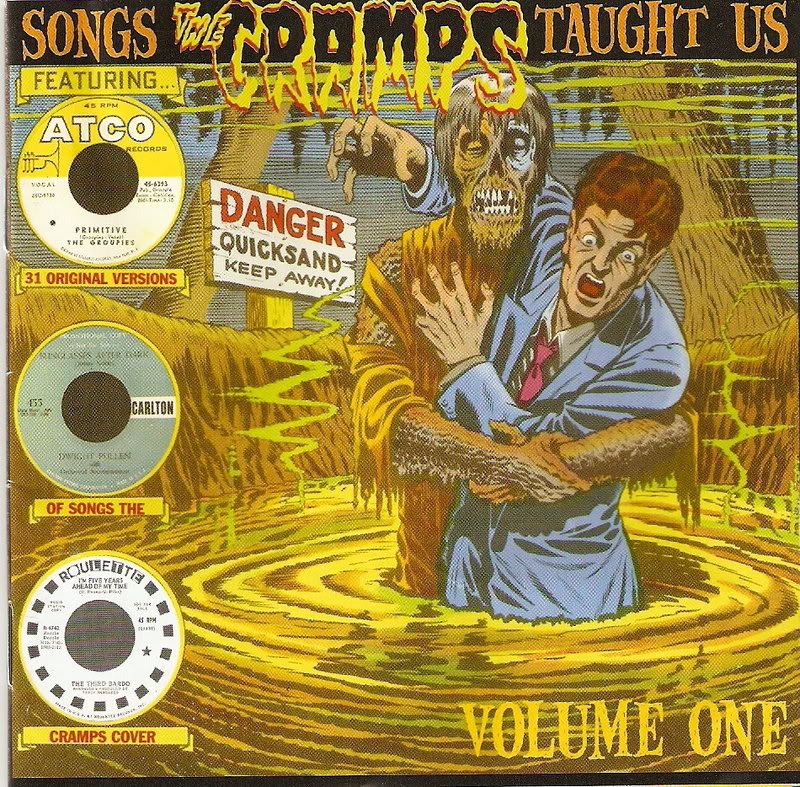 A lot of people I know are aware that the bulk of the Cramp's material are actually covers, or butchered mergings of two covers, or ripped off music with new lyrics. I'm suprised at the number of people I meet, though, that haven't heard this series.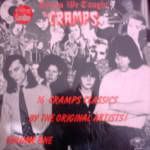 I've got a ooooooold bootleg 12" called
Songs We Taught the Cramps
that covers a lot of the early Cramp's stuff and throws in some samples from old horror movies. As far as I know, that's the earliest version of what turned into a huge deal among rock n roll comps. There have been several different comps. bootlegged under the name
Songs the Cramps Taught Us
, but as far as I can tell, this series of three CDs seems to be the best (though at least two different covers exists for each volume, and there are other versions that stole the artwork but are different tracklists). The liner notes are great, with bios on all the original performers and some thoughts on the different versions. I've honestly never really listened to the
Born Bad
series, though I understand they're supposed to be quite good as well.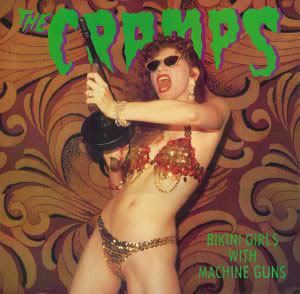 This collection spans the 50s/60s underground gamit. You've got some rockabilly, fuzzed out psych, a little surf stylings, some demented jazz, and plenty of old school rock n roll. My personal favorites are The Sonics' "Strychnine", which is probably the best American garage rock song ever written, The Third Bardo with "Five Years Ahead of My Time", and the Frantics' sci-fi surf "Werewolf". On the subject of that, the CD credits the song "Werewolf" as the inspiration for the Cramps' song "Don't Eat Stuff Off the Sidewalk", while the original
Songs We Taught the Cramps
points to the Ventures' classic "Twilight Zone". Both are very similar and either one could be the "real" inspiration, but we'll probably never know for sure (but my bet is that the band was well aware of both songs).
I had to split it into two downloads:
Part 1
Part 2
Tracklist:
1.Sparkles-Hipsville 29 B.C.
2.Dwight Pullen-Sunglasses After Dark
3.Link Wray-Fatback
4.Sherrif & Ravels-Shombolar
5.Riptides-Machine Gun
6.Bo Diddley-Dancing Girl
7.Trashmen-Surfin Bird
8.Walter Brown-Jelly Roll Rock
9.Sonics-Strychnine
10.Rumblers-Boss
11.Third Bardo-Five Years Ahead Of My Time
12.Busters-Bust Out
13.The Phantom-Love Me
14.Jett Powers-Go Girl Go
15.Ronnie Cook & Gaylads-Goo Goo Muck
16.Runabouts-Strangeness In Me
17.Groupies-Primitive
18.Frantics-Werewolf
19.Elroy Dietzel-Rockin Bones
20.Dale Hawkins-Tornado
21.Shells-Whiplash
22.Keith Courvale-Trapped Love
23.Freddie & Hitchikers-Sinners
24.Charlie Feathers-Can't Hardly Stand It
25.Andy Starr-Give Me A Woman
26.R.Lewis Band-Get Off The Road
27.Hayden Thompson-Blues Blues Blues
28.Lee Dresser & Krazy Kats-Beat Out My Love
29.Andre Williams-Bacon Fat
30.Jack Scott-The Way I Walk
31.Elvis Presley-Do The Clam.