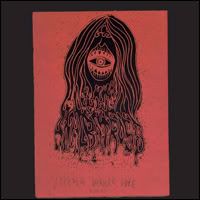 Holy shit, this recording is perfect. Everything is clear, but it sounds live and raw as hell, it's a live recording that actually warrants being bootlegged and listened to over and over again. The songs are all pretty clear and the groove sections play out well. The recording is good, but the set is what really makes it. These guys are really a great live act.
Even if you never really listened to An Albatross (I was never really familiar with their whole catalog or anything), this is a good listen. It actually works as an introduction to the band instead of just being something only die hard fans would ever appreciate. It was recorded April 20th 20065 in New York City. One again, I decided to rip this as two files, side a and side b. There are actually visible groove gaps to distinguish the songs, but there are no gaps in the audio and I didn't feel like there was a point in taking the time to try and separate the tracks.
Picture is courtesy of
indieworkshop.com
. My copy is black ink screen printed on a black sleeve and does NOT show up in a picture, and I don't have a way to scan LPs. My version is on grey vinyl and is hand numbered "11/136".
Set list:
SIDE A
WRGGGGGGGRKYYYYYYY!!!
Triumph Intro
Let's Get On With It
Trust the Sun
Manifesto of the Divine Children
Triumph of the Lazer Viking
Profane Illumination 1/2/3
Ch. 96
Vitally Important Pelvic Thrust
I Will Swim Into the Lazer Eye

SIDE B
I Am the Lazer Viking
Tussin
Hairobics
Ballad of the Electric Coyote
Unkle Funky Pants
Man Eating Pig of Madidi
Get Faster Cry for Happy
Pa Inferno
Mothers' Day
Featgiver
Electric Suits and Cowboy Boots
Revolutionary Politics Of Dance
Triumph Outro
Download Freedom Summer Live