This is a first draft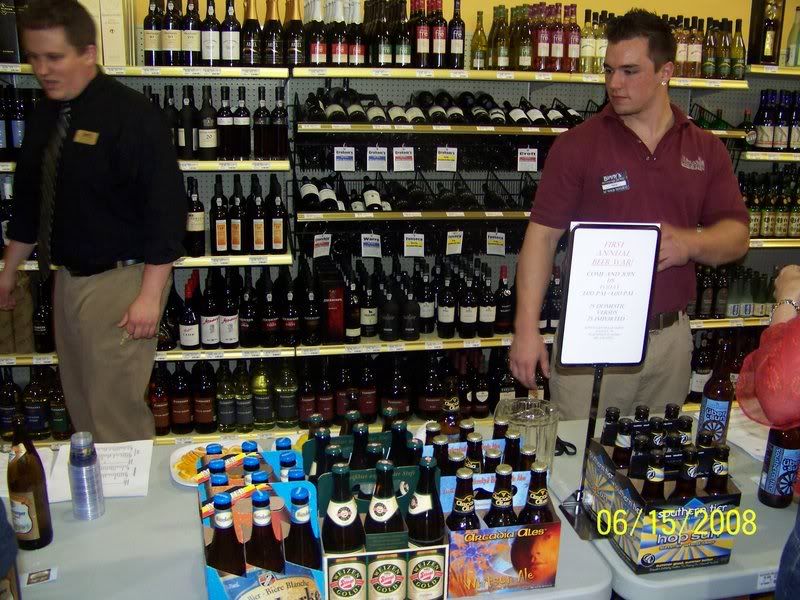 We convened on June 14th, 2008. It was the day before Father's Day, and we had serious business to attend to. The Plainfield, IL location of Binny's Beverage Depot was hosting their first annual "Battle of The Beers". Row upon row of beers sat, waiting for consumption. 25 domestics, 25 imports, all of the wheat variety. Admission was free, samples were plentiful and no one refused you when you went back for a second opinion. I approached the scene with a broken sense of caution, because there was only one thing for certain, and that was that was that I was going to be leaving Binny's stinking drunk.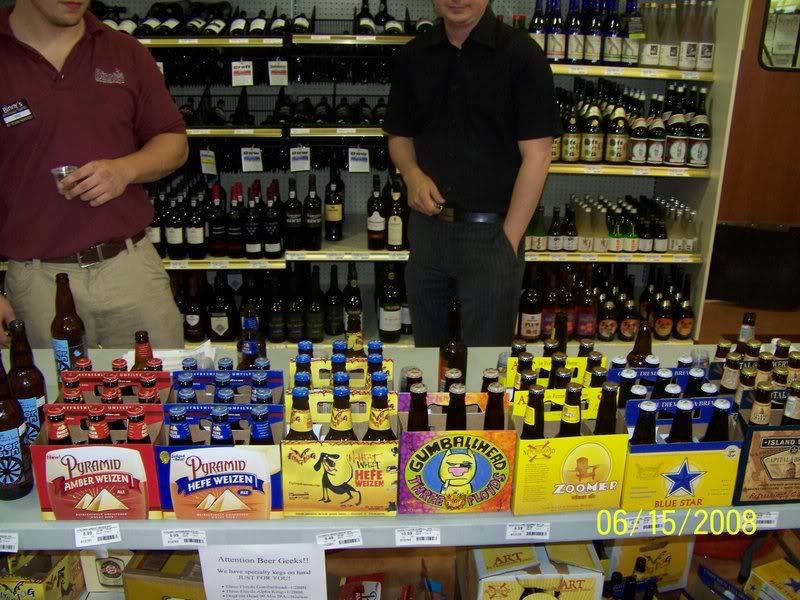 Wheat beers have never been my forte, but I knew there had to be something, buried inside the haystack, that would stick to my palette and instill in me the rich feeling of discovering a beer that is uniquely mine. Beer snobs all have their certain go-tos. Sure, we enjoy sitting down with the samples and picking apart the bodies, cleanliness, and clarity of any beer and brewery we come across, that's what these events are all about. But, in the end, beer snobbery can cloud your vision and there will always be times when we just want something to drink simply because we enjoy it and want to enjoy it over and over again.
Keeping so many beers straight in your head is not an easy task. The 25 imports featured were mostly German brews with names that end up all running together after the first 15 beers or so. There were great stand-outs from both sides, but the Americans fell drastically short in this battle. There were some great contributions from the Americans, including Flying Dog's (Colorado) "In-Heat Wheat", Rogue's (Oregon) "Half-E-Weizen", and my personal favorite, "Uber Sun" from the always great Southern Tier brewery in New York. "Uber Sun" was a much hoppier, bitter styled beer that tasted more like an IPA than a wheat beer, which is right up my alley.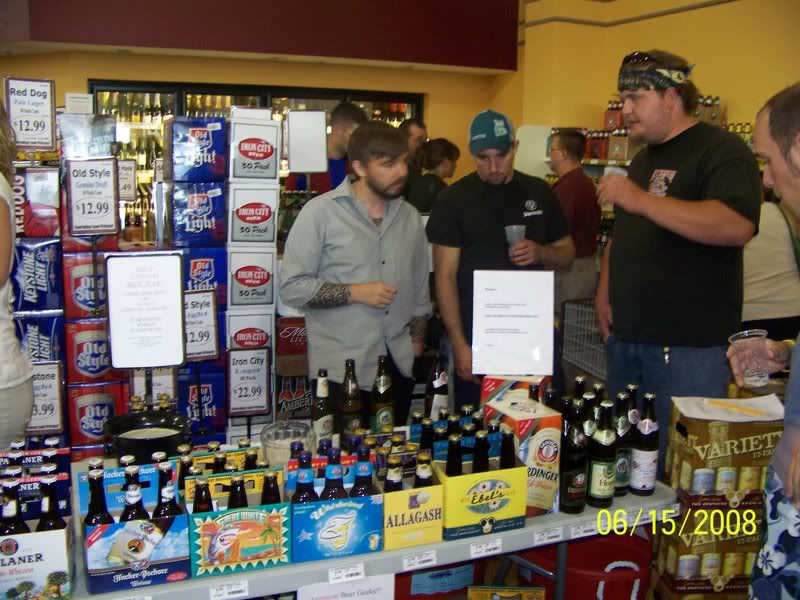 There were a number of American beers that left a lot to be desired, some were almost tasteless. The contributions from the Point Brewery in Wisconsin were dismal. Their "Horizon" was decent enough, sort of a relaxed take on the classic wheat beer style but with no distinguishing characteristics, and their "Nude Beach" and "White Ox" (which is brewed in the Point Brewery but under the James Page moniker) were both completely unnecessary, they were basically bland light beers with a small edge packaged in fancy bottles, as was North Coast's (California) "Blue Star Wheat". The Shiner Brewery out of Texas had their Hefeweizen available, which had a citrus taste that was so overpowering there almost no beer to be found in the drink. The "1809 Berliner" weisse from the Weihen brewery in Germany was done in the same style, but much better executed, with a tangy tinge, but not overpowering.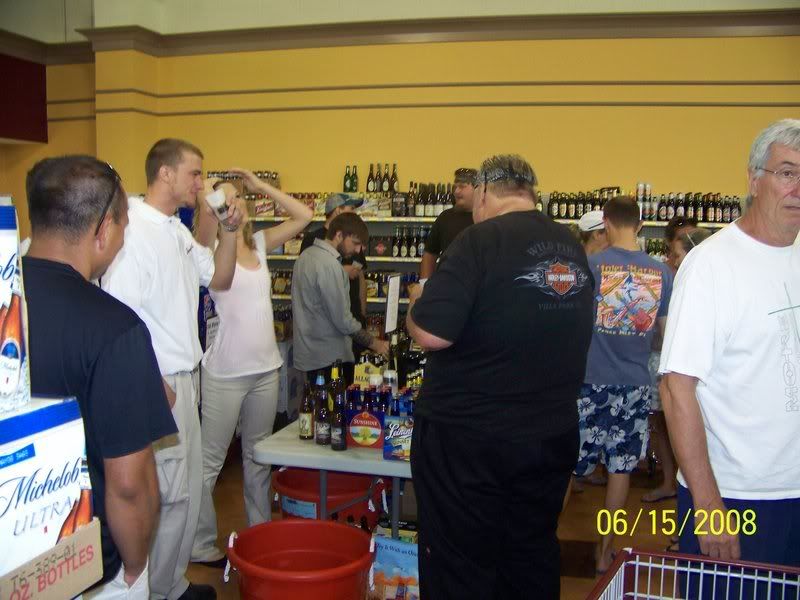 The Europeans were not without their faults, but the vast majority of the international beers for sampling were quality brews. Erdinger (Germany) made two great contributions, their regular weissbier, which was bitter with a bit of a citrus edge, and their dunkle (dark) was superb. The crowd favorite of the day was Hoegaarden's (Belgium) weisse which was a beautifully thin beer that packed a much bigger flavor punch than you would ever imagine such a light beer being able to get away with. My personal favorite find was from the Weissbierbrauerei G. Schneider & Sohn Brewery (Germany), who put in three beers that were all great, but their "Aventinus" was the stand out in my opionion. The first little bit was hard to get through, but after letting it sit for a minute and get the aftertaste, the rest went down easy. It was definitely the surprise of the day for me, that beer I'd been looking for.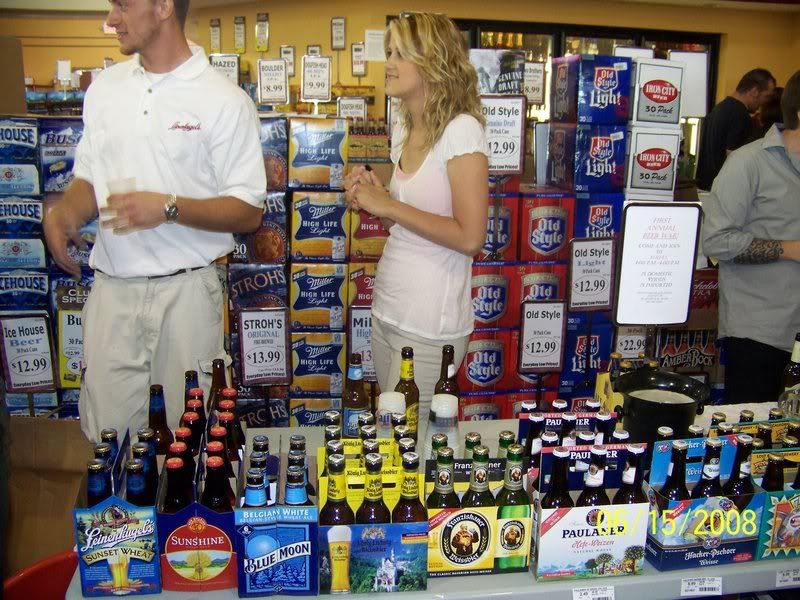 I admit, with great shame, that I did not get through all 50 beers. I made it to 47 in our three hour window. But there was a lot more there than just the beer. It was the conversations, the mutual respect of fellow beer drinkers, discussing all the subtleties of the craft that goes over most people's heads. In three hours we had tried and examined more beers than most passive drinkers will try in the course of their lives. Basic economics tells you that in a recession, the alcohol industry is one that will soar. But it's not about getting drunk, it's about appreciating something that someone puts their whole life-force into to make right. Whether they're a European Brewery who has been using the same recipe for 400 years or they're a new American upstart who just got their foot in the door and is trying to forge new ground, there is a community to seek out their product and appreciate it. It's just like any other obsession that is rooted in a mere hobby, just like those of us who collect obscure vinyl records or B horror movies. We drink because we can, because it's one of the few privileges that the state hasn't found a way to take away from us. It was Bukowski who said "When you drank, the world was still out there, but for the moment it didn't have you by the throat," and we don't need to be lifetime drunks to appreciate that (so
FUCK YOU
Alabama!).