Apartment 213-Vacancy 7"
Powerviolence from when it was powerful and violent. Everything about this record completely reeks of grit and anguish. There are songs about killing people with power tools. There's a song about John Wayne Gacy. There's a song about the Jonestown cult. Everything just reeks of complete rage and anger. I fucking love it. The liner notes for "Mutilation" reference "(gang vocals)" as part of the lyrics, followed by "(stomping out souls)". Fucking classic.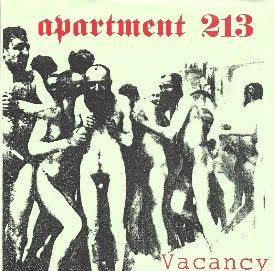 This came out of the Cleveland area on Dark Empire in 1994-ish (same time/label as the early Integrity stuff) and I think this band is still around. One of the best things about this release (other than the fact that the music makes you want to blow your brains out and they have one of the best samples I've ever heard on a powerviolence record) is the insert advertising Dark Empire releases that says they'll trade rare records and merch for Star Wars toys.
Download Apartment 213-Vacancy 7"