I'm going to make this post even though I'm in a shitty mood because I have no money and my record player broke when I was ripping this record.
Korova hasn't played a show in Birmingham since April of last year. We actually haven't played a show at all since we played with Dr. Know in Nashville last June. All the other bands are locals who play more (except the Barker/Jacks Experiment, which I think is a one-off gig). This show is a benefit for our friend Tina. She is a single mom who works two jobs, including being a promoter at Bottletree. She's the one responsible for bringing bands like Torche and Young Widows through Birmingham. She is totally no bullshit and is punk and DIY as fuck.
A few weeks ago she came home to find her house broken into and literally everything missing except furniture. We're just doing our part to help her cover her losses and get back on her feet. I know it's not cool to go to shows anymore, but it would be awesome if everybody came out and supported this and played nice and acted posi. This is a long way off but I hope everybody will go ahead and mark this down on their calenders.
Aunt Mary/Man is the Bastard split 7
This is that "famous" Man is the Bastard recording because it has the song "H.S.M.P." which is supposedly the first use of the term "power violence". As with most songs that spawned a completely absurd sub-genre, it's not very good. However, the other eight songs they recorded for their side are pretty good. Aunt Mary are from Finland and their side is one song in five movements and is pretty much just noise. It's sort of like early Anal Cunt I guess. Their side is actually pretty interesting but
-- OH NO -- my record player broke while I was ripping it so it's not on here. Whenever I get it fixed/get a new one, I'll post it.
Fixed my record player myself and re-upped the file with the Aunt Mary track included.
I'm not really sure about the pressing info. on this. I guess the first pressing was self-released in 1992, but mine is on
Deep Six Records
, which is from 1996 (on a side note, Deep Six are still around and still putting out great records by bands like
Weekend Nachos
). It's an orange xeroxed cover and really cool orange marbled vinyl and the poly bag is for a comic book and not a record. Any info. would be appreciated even though I'm not gonna' sell the thing. I just like to know, you know.
Download Aunt Mary/Man is the Bastard split 7"
Link has been removed per the band's request
.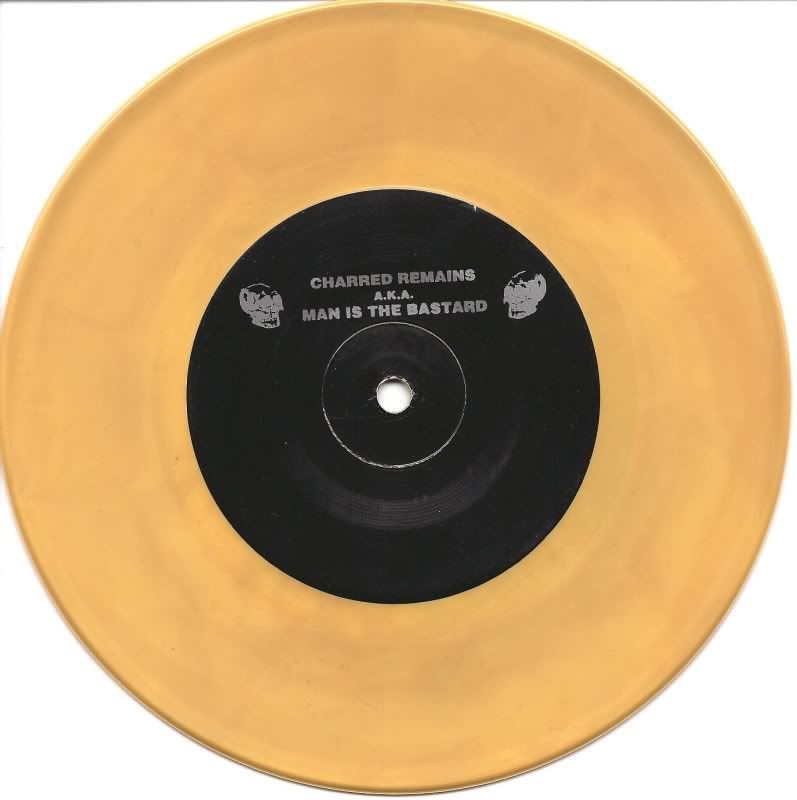 Don't forget to check my
eBay auctions
because I'm broke as shit and am trying to make you responsible for my problems.