I hate money.
V/A-Southeast Hardcore, Fuck Yeah!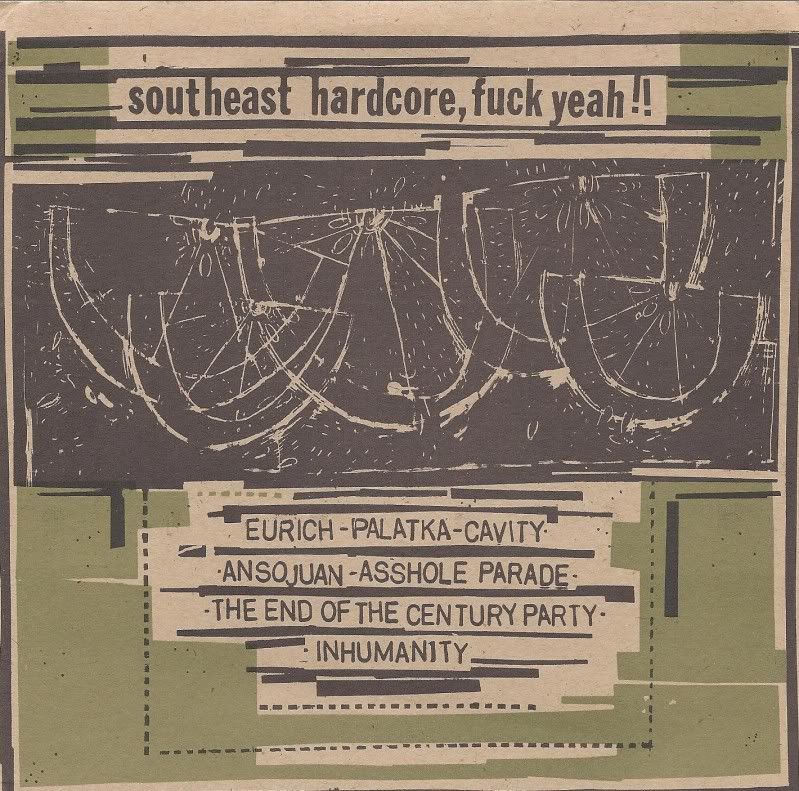 I don't remember the first time I heard this. Probably five or six years ago. I bought it for like two bucks from some online distro because it was all Southeastern bands and I was totally confused. I'd never heard screamo or "emo-violence" or whatever before and I didn't even know what this was supposed to be. The Asshole Parade tracks were awesome to me, but the Eurich song starting this thing off completely blew my head off. Now I'm older and have more "distinguished" tastes and can appreciate it more. The Cavity track is gnarly as shit, and rightly so being that they're members of the almighty Floor.
I love comps that actually promote Southeastern hardcore, and this is no exception even though it's mostly just Florida bands. A couple of them are from the Carolinas as well, but Alabama, Georgia, Louisiana, and Tennessee are totally ignored. Oh well. This was on Concurrent records in around 1997. If anybody has any old hardcore on vinyl from the Southeast (ever!), get in touch because I want it. Thanks.
Download V/A-Southeast Hardcore, Fuck Yeah!