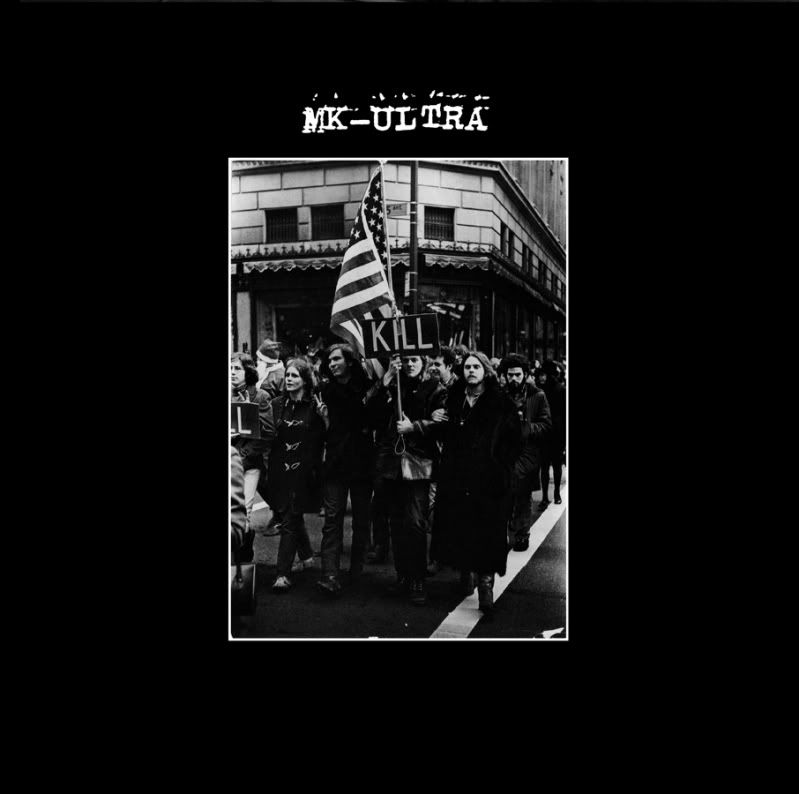 MK-Ultra are one of the most under rated hardcore bands from the 90s. Or from ever. I know that's kind of a heavy statement and I'm sorta' known for using hyperbole, but in this case you need to take my word for it. They might not get the attention and reverence of their Chicago hardcore peers Charles Bronson and Los Crudos -- and MK-Ultra were admittedly less prolific than both -- but they were at least as good as either. And for the time being, they're the only band of the three that now has a proper "best of" properly committed to vinyl.
This is a semi-discography, and the liner notes state that "some songs have been left off on purpose". The full running time is still an epic 55 songs plus a live set and there's not a sleeper in the bunch. The chronology is backwards, so you get to hear the band stumble backwards from the more precise-sounding Midwestern power violence sound they had in their later days to the heavier, East Coast influenced punk that pushed them from the start. Both sounds have their own unique things to offer, but I like the earlier material best. Towards the end they did get a little too close to Charles Bronson, but I'm sure the shift to Ebro (a member of Bronson and Crudos) on drums accounted for a lot of that.
The tracks from the demo and first 7" are a lot more influenced by Born Against, who the band toured with several years ago. The band also mentions trying to sound like Rorschach on "This Town is Killing Me" from the
49th Parallel
compilation. Something about this era of the band just sounds better. It's more unique, I guess. The whole record works well, though, and the packaging is top notch. It's a great gatefold sleeve with a massive pro printed booklet with photos and copies of original inserts from the records. I guess the label is down to the last few copies, so it's probably in your best interest to jump on this before it's gone and you miss out on the most complete documentation on a great band that is regrettably lost to time otherwise.
My copy of this is on white vinyl. I don't know if that's a first pressing or what. It was sent to me by my friend Gary -- the original drummer in the band -- who I am lucky enough to have been in a band with a while back, between stints with
Korova
. He can still play fast as hell and whenever I think of him the first thing that comes to mind is the time we played with Harm's Way at some coffee shop and we got really drunk and he told some story about how he won't go to record shows anymore because he got thrown out of one for smashing Skrewdriver albums on tables in like 1992. I told him I would have bought those and he goes "Yeah, you would" and hit me. He also wrote the main riff in the song "Worker vs. Parasite" from MK Ultra's split with Seein' Red. When I mentioned to one of the other members of MK Ultra that our current band had taken the riff, he told me that the riff was called "The Cihak Stomp", which I see they correctly credited in the liner notes.
Anyway, I don't want this to be all "this band needs no introduction", but I'm sort of at a loss. Buy this, you won't regret it.
Youth Attack Records
Freeeeee samples:
Credit is the Opium of the Masses
Worker vs. Parasite
Hooray for the Unibomber
Apple Pie
These Things I Believe